Adoption Process
Our adoption process entails an adoption application, a personal interview, a meet-and-greet appointment, a home visit with the potential adopters and their families and other pets, as well as an adoption contract.

Adoptions are conducted at the adopter's home, or at the Gilbert PetClub during our adoption events.
Adoption Events
Carrie on Rescue holds adoption events every Saturday at the Gilbert PetClub located on
835 W. Warner Road in Gilbert from 1 PM to 5 PM.

You may also meet our dogs by
contacting us
and arranging for a personal meet-and-greet appointment during the week.
Testimonials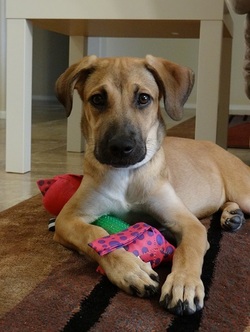 "My husband and I adopted our dog Paris from Carrie on Rescue at a Pet Club adoption event in August 2013 and could not be happier.

Paris's life had gotten off to a rough start and she was in danger of being euthanized at a local shelter before she was rescued by Carrie on Rescue. Christiane and the other volunteers at Carrie on Rescue were fantastic to work with and really care about the well-being of their animals.

They are extremely dedicated to finding good homes for their animals and giving them a second chance at life. We stay in contact with Christiane through photos and by visiting Pet Club during adoption events, and it is apparent just how much she really cares about Paris.
My husband and I are so grateful for Carrie on Rescue for bringing Paris to us and for all of the work they do in rescuing animals!"

Kristin G.

"Christiane and Leonard with Carrie On Rescuers are the best people I have ever dealt with. They truly love and care for each of their rescue animals and it shows. They do their best to make sure each animal goes to a good home. My family adopted a puppy and we could not have asked for a better dog. She is so sweet and brought so much joy to our family. This is the only rescue organization I would ever use or recommend!!"

Heather E.




BASTIEN (Toto)Little Bastian was found as a stray and taken to Animal Care and Control. Since he was very scared in this noisy, unfamiliar environment he was placed on the euthanasia list. Carrie On Rescue saw this little guy at the shelter, fell in love with him and rescued him. Bastian was placed in a loving foster home.

In foster care, he quickly came out of his shell and was ready for adoption. He was adopted by his wonderful dad Pasha Y. who fell in love with him after meeting him. Pasha works for the theater and was able to train Bastian for the upcoming show "The Wizard of Oz" where Bastian is set to play the part of Toto. All of us at Carrie On Rescue are overjoyed and so very proud of Bastian. We are thrilled that he has found an incredible dad! Bastian's success story shows us that with a loving home any rescue dog can be a STAR!

This will be Bastien's first starring role, and first time on stage at Phoenix Theatre. Bastien loves to be on stage, play fetch, and roll around on grass or carpet. Dean Martin, and Mumford and Sons are his favorite musicians, and Bastien loves to sing along. He loves jogging at sunrise and sunset, and is always a help in the kitchen. Bastien is a fan of the Toronto Blue Jays and is an avid Roger Federer fan. After The Wizard of Oz closes Bastien hopes to retire from showbiz and live a cozy life in Canada. Bastien would like to thank his caretaker Pasha Yamotahari, and the Phoenix Theatre family for adopting him.

---